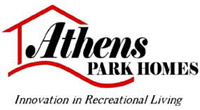 Park Model Homes is a proud retailer of Athens Park Models. Athens park model lineup features a uniquely designed exterior and an interior look found only in the high end residential home market. The interior of Athens park models feature tape and textured walls and ceilings accented by plant ledges, soffits over the cabinets, recessed lighting and ten foot ceilings. The exteriors of Athens RV park models feature the most popular siding in the housing market today, Fiber Cement Siding by James Hardie. Cempanel siding by James Hardie gives Athens park models a smooth clean look, but best of all, fiber-cement siding is moisture proof, non-combustible, low maintenance, rodent proof and has a 25 year transferable warranty.
If you are looking for a park model cabin, Athens Park Homes has just what you are looking for. You can have your choice of log, cedar or fiber-cement exterior siding. Athens Park Model Homes rustic interiors have cedar walls and ceilings with purchased cabinet doors or our own cedar cabinets and cabinet doors. If you prefer to have textured walls in your park model cabin, Athens Park Homes will tape and texture the walls and add a cedar wainscot and trim. Don't forget to add the bunks, lofts and screened in front or rear decks. Athens Park Homes offers plenty of flexibility with your RV park model. Athens Park Models have a variety of floor plans to choose from and an in house engineering staff to customize your park model. Athens Park Models are designing new floor plans daily. Be sure to add a prismatic or clerestory dormer to your park model to give it the best exterior appearance and most open living space inside.
If you are looking for ways to customize your RV park model or cabin, Athens Park Homes has everything that is available in the market today. Athens Park Models offer built in microwaves, dishwashers, granite counter tops, counter top ranges and convection ovens. Most appliances are available in white, black or stainless steel. Athens Park Model Homes offer fireplaces, marble window sills, French and house type doors, laminate flooring, stereos with ceiling speakers, higher pitched roofs, upgrade shingles and metal roofs. You can further dress up your park model or cabin by putting in Athens Park Models stylish furniture packages.
Athens Park Models new line up of larger HUD Resort Cottages will provide the same quality construction and innovative design as Athens Park Models. These homes will feature all tape and textured interiors and fiber-cement siding by James Hardie. They will be available with 9 foot side walls, trey ceilings, plant shelves, 42" cabinets and 60" shower stalls.
You will love the quality craftsmanship and the superior construction of your Athens Park Home.Your Athens Park Home park model or cabin is built in an environmentally controlled 140,000 square foot building center by skilled craftsmen using the finest materials available. Athens Park Models start your park model by building their own frames in their separate 17,000 square foot frame shop. Athens Park Models then use an automated system to pull the floor down the assembly line where their superior craftsmanship is built into every line station. While many of the processes for your park model have been streamlined for greater efficiencies, you can be assured that it was built with care and concern for quality that cannot be surpassed.
All Athens Park Homes RV park models and cabins share the same quality construction features such as 90-inch sidewalls and 16-inch on center exterior walls and floors. Fiberglass insulated heat ducts, vinyl insulated windows and a house wrap around your home keeps your utility bills low year round.
All of Athens park models come standard with tape and textured walls and ceilings with rounded corners for that distinctive look that you deserve. Athens park models attractive exteriors are 100% Cempanel Fiber-cement Siding with a 25 year warranty. Athens RV park model cabin lineup has a rustic looking log or cedar exterior and beautiful cedar ceilings and accents. Please contact Park Model Homes so you can see for yourself how we have earned the name "Innovation in Recreational Living."
Athens Park Homes produces a complete line of:
Luxury Park Model Cottages
Sportsman's Lodges
Rental Cabins & Suites
Specialty Buildings
HUD & Modular Housing
Most of Athens park models products have fiber cement exteriors and tape and texture interiors. Wood interiors and exteriors are available on lodges and cabins.